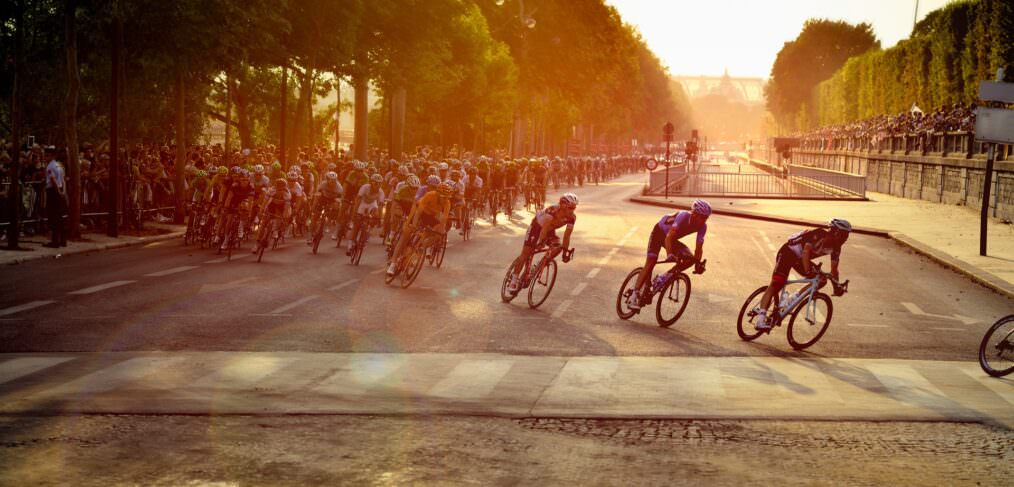 The Business of Cycling Discipline
In July, high temperatures bring an intensity to the air as wheat fields turn golden, announcing it is high time for harvest.  I clip into my carbon road bike and head towards the Maroon Bells.  My preferred approach to the base of the climb is a circuitous route that rises gently up the valley floor.  The smell of freshly bailed hay and straw marks the height of summer, and it reminds me that my favorite of the three Grand Tours is about to commence.  The smell – and the anticipation of Stage One of the Tour – triggers in me a rush of excitement, even a burst of adrenaline.  My hands slip to my drop bars and I envision I'm in the men-filled peloton.
The Tour De France is a multi-stage bicycle race comprised of the finest cyclists in the world.
For much of the race, the cyclists work synchronously in a group formation called a peloton.  The tight assembly of the riders significantly reduces aerodynamic drag and helps them conserve energy throughout the multi-stage race.  At other times, the best-of-the-best peel off and leave the peloton in a sprint. The team has supported them – offered them the stored energy they need – to bring their personal bests.  Few men over the race's history have reached the top of the Alp and Pyrenees passes first to take the gold. To get there takes a mix of love, discipline and hard work.
I moved to Aspen, Colorado in 1999 and instantly made friends with those who loved outdoor recreation.  My paychecks seemed to disappear as I invested in kayaking, alpine skiing, ski mountaineering (also known as skimo) and all forms of cycling. As the years passed, my friendships with the cycling athletes became my dominate friend group.
In late 2000, I met my now husband, who had biked competitively since he was a teenager.  As our friendship grew, so did my love of cycling.  It was not long before those other sports fell by the wayside. I found myself spending three and four hours a day riding my road, cyclocross, and mountain bikes during the week, and weekend rides lasted five, six and seven hours.  We rode hundreds of miles each week.  It was pure ecstasy—my love of cycling was irreversible.
I began racing. I didn't realize it at the time, but I was well-prepared for competitive cycling, even though my training had largely been following in my husband's wake. While I wasn't paying attention, he was. He had a highly disciplined approach to diversifying our daily and weekly routines.  He planned specific rides of varying intensity, difficulty, and length, and he coached me though his actions rather than his words. While I followed him for many reasons, none of them was for his coaching. In fact, he never said a word. Instead, he trained my body and mind to withstand grueling hills, all-out sprints and hundreds of miles simply by his actions and implicit knowledge of the sport.
With my cycling career reaching new heights, I began to understand the thought and rigor behind my training program. Fletcher had leveraged my love of cycling toward a highly regimented and disciplined training program.  Once I became more aware, I was amazed at how he had helped me reach my goals without browbeating or long dissertations on training strategies. I just got on and rode.
Long after my racing days had ended, I pursued a career change with a quite similar approach—first love, then discipline.  I fell in love with the opportunity to optimize employee performance, while leading a team of diverse and inspiring landscape architects.  Our design team was successful in many ways.  Over 15 years, my partner and I grew the team to 12 employees. We won awards, spoke at conferences, and expanded our portfolio to include nearly all facets of the ever-broadening scopes of work led by landscape architects.
Much of our success was fueled by our drive to challenge status quo and always improve our processes, products and solutions.  Despite our many accomplishments, we realized there remained exciting opportunity to enhance our approach to talent development.  I was inspired by the breadth and depth of positive results made available via an intentional approach to organizational design, recruiting and personnel development—and I took action.  First with our design team and then extending it to like-minded leaders of all types.
My love of talent optimization grew as my love of landscape architecture waned.  I launched a parallel career, fueled by my authentic desire to provide leaders of all industries the same opportunity.  The venture was born from a deep love of talent optimization, but thanks to Fletcher and other key mentors in my life, I had learned to quickly adopt a discipline to accelerate success.
In business, the discipline our team at SHIFT adopted is known as the Entrepreneurial Operating System, or EOS.  It is a comprehensive business system which includes a simple set of business tools that aligns and synchronizes all the —moving— pieces of your business. It helps leaders reach their goals and desired business results without browbeating or long dissertations.  Just follow the process and thrive.
While you might not be able to reach all of your goals with a love/discipline philosophy, there are certainly times when not over-thinking it can be beneficial. Follow your loves, your passions, your good ideas. And then find a disciplined, rigorous program that can take you to the next level.